Year 5
W/C 22/5/17
Again, what a busy week for Year 5! We have enjoyed the beautiful weather by working on our Sport's Day races. We also had a visit from our local PSO, Samantha Giles who gave us a talk on Personal Safety.
At the end of the week, we had our very exciting annual visit from Jonathan's Jungle. As always, the animals were fascinating and Jonathan educated us on the different animals he had brought. The children were very well behaved throughout and we were very proud of them. Some excellent questions were asked too!
Thank-you again for your continued support this term.
See you in term 6!
W/C 8/5/17
So far this term, we have learned lots about The Tudors. Here are some pictures of our work on display.
W/C 7/4/17
Wow! Another term is over! What a busy term Year 5 have had. The children have worked exceptionally hard again his term. The quality of homework has been yet again outstanding.
Here is a movie of Conor's homework.
Again, we have been enjoying the sunshine as much as possible by taking part in outdoor learning. Here are some picture of us finding and measuring angles.
Have a fantastic Easter and thank you for your continued support!
W/C 20/3/17
On Thursday 23rd March, Year 5 had an amazing visit to @Bristol. They had a fun-packed day of scientific activities to help stimulate their senses and enrich their science experiences from in school.
They experienced hundreds of activities which sparked interest and built levels of confidence.
The children showed good manners and exceptional behaviour throughout the day and were a credit to the school.
Well Done Year 5!!!
W/C 13/3/17
Friday 17th March
What a beautiful day! Year 5 made the most of the sunshine by completing a Maths Hunt around the playground. In pairs, the children solved maths questions which then led them to another question.
Well Done to Lottie and Anna, who completed it first!
W/C 6/3/17
This week, Year 5 had great fun designing a roller coaster carriage out of K'nex. They worked together in pairs to design, plan, make and evaluate their carriage. As you can see, the results are amazing!
W/C 27/2/17
Year 5 had great fun celebrating World Book Day. We had lots of amazing characters and costumes.
There were 6 children who made it to the final, with Gangsta Granny the winner and Peter Pans Shadow as runner up!
Many thanks to parents and carers who made such an effort with the costumes.
W/C 6/2/17
On Tuesday 7th February, Year 5 explored how photos shared online can potentially stay there forever and may reach a wider audience than they intended. They considered how photos create an impression of their character and personality (online reputation) and learned how to develop a strategy to help them decide if a photo/image is okay to share online or not.
Mrs Knight also lead an assembly on how to be safe on the internet by not sharing personal information and how to show respect to others.
W/C 30/1/17
Wow! What a busy week. The children in Year 5 have designed and built a devise for the safe landing of an "Eggstraunaught". They put an egg inside their design made from fabric, bubble wrap, balloons, string and a cup. They then tested out their design by dropping it from a meter high and then went further to two meters high. Some were successful, some weren't!
On Thursday and Friday, we visited Upper Stratton Library. The children listened to the librarians; Wendy, Shirley and Di and learned about the system they use for organising the books. The children were then allowed to browse the books and listened to a story.
Many thanks to the parent helpers and TA's who walked with us. Without your support, we can't do these visits!
W/C 23/1/17
Sharing our Homework in Year 5
Every Friday, we share our homework with teachers, teaching assistants and each other. Again this term, we have been very impressed by the quality of homework. The children have obviously put a lot of effort into each activity.
Here is a selection of photos, showcasing the work of the three classes.
Well done Year 5! You should be very proud!
W/C 9/1/17
This week, Year 5 were very lucky to be involved with Google Expeditions. We used a VR Headset and explored The Solar System in the morning and The International Space Station during our afternoon session. We learned loads of new facts (like how astronauts go to the toilet in Space!).
w/c 7/11/16
Over the last two weeks, Year 5 have been working hard in ICT to make their own portal for Alchemy Island. The children used found a suitable portal image using Google then inserted it into the Microsoft Paint Programme. The children were then able to extend or edit their portal using the different tools. The results are amazing! Well Done Year 5.
w/c 31/10/16
This week Year 5 have started our new topic called 'Alchemy Island' .
As part of our Maths activities within this topic the children have been developing their ability to measure liquids accurately. They can be seen here using these skills to try and replicate one of three potions shown to them at the start of the lesson. The potions had to match in colour, consistency and size. The children were told the specific quantities of three liquids which were needed - but not which liquids to use.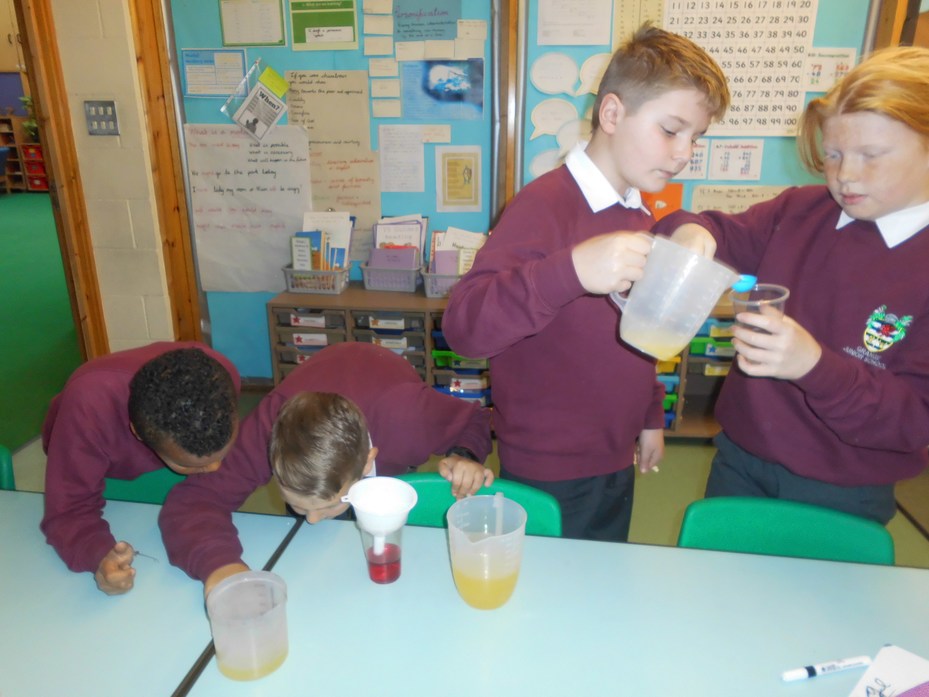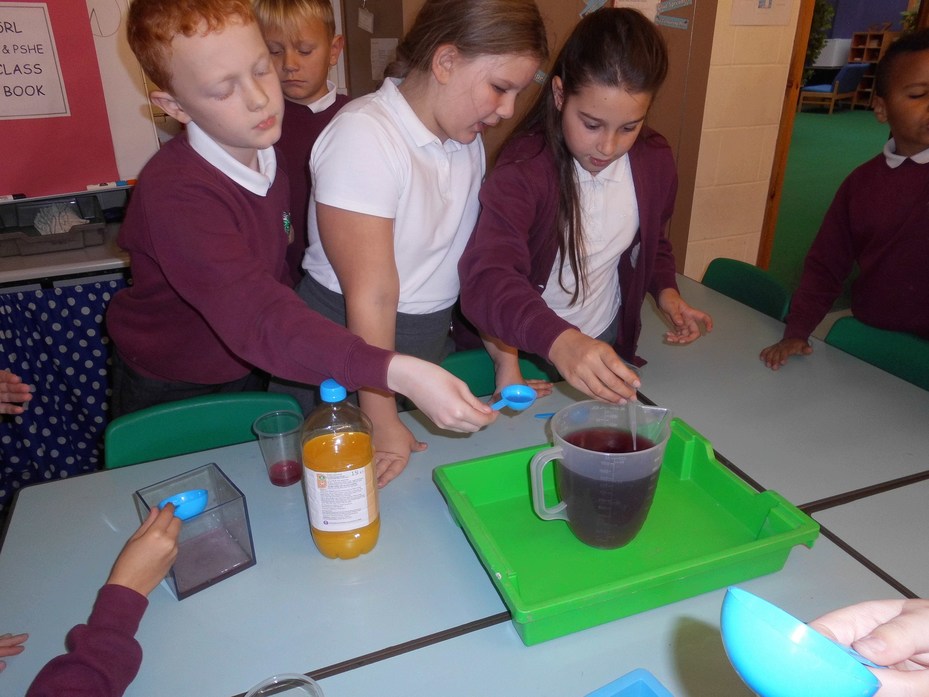 w/c 17/10/16
Year 5 pupils have just come to the end of their Princes, Peasants and Pestilence topic and we have been overwhelmed by the quality of their homework this term.
When you are next in school have a look at the whole display which is next to the Main Office.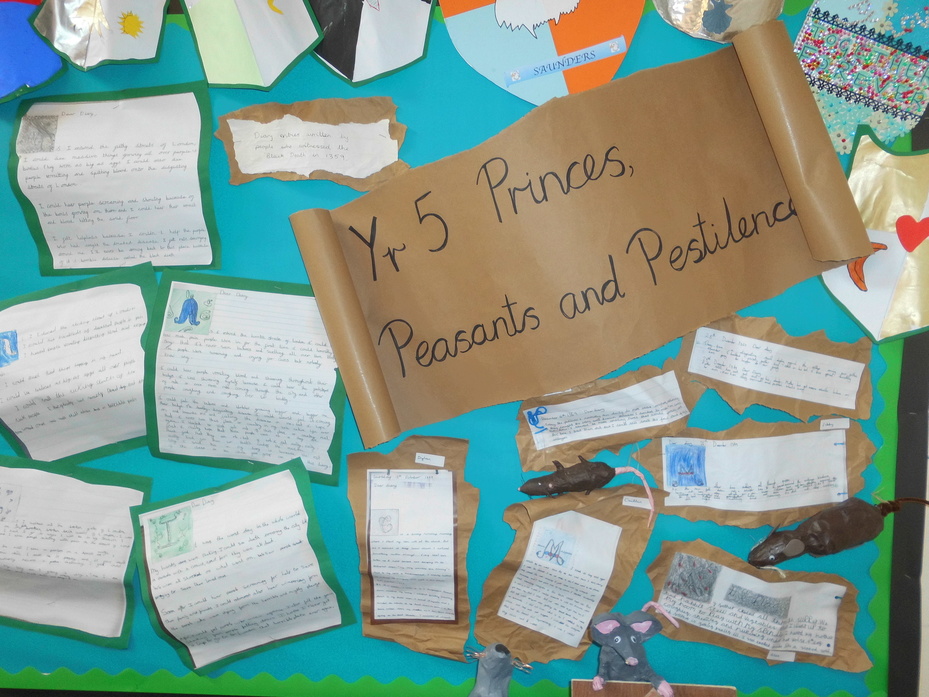 w/c 3/10/16
It has been a really busy week in Year 5 this week. On Monday the children were investigating how kitchen herbs we use today were used by medieval doctors to cure everything from a headache to the plague.
Later in the week a mysterious archaeological dig appeared in the corner of the school grounds- investigations into this site will be continuing into next week.
The week rounded off with Miss Little's Middle Ages Banquet!
The children re-created medieval recipes and some willing volunteers entertained the crowds as jesters whilst the baked apples were cooking.