Year 4
Term 3 - w/c 2/1/18
Bottoms, Burps & Bile
This week Year 4 launched their new Science based topic – Bottoms, Burps and Bile. The children had great fun learning about their own digestive systems, recreating them using everyday objects. They were able to see how food enters their body as a source of energy and how the waste is ejected from their bodies – the children made poo!
Term 2 - w/c 11/12/17
Harry Potter Studio Tour
Year 4 children and staff had a 'magical' day at the Harry Potter Studios. The trip was their opportunity to celebrate the end of a really exciting and enjoyable Potions topic. Great fun was had throughout the day, the children loved seeing so much of the book come to life - especially in the Forbidden Forest and Diagon Alley.
Christmas Unwrapped
On Tuesday 5th December Year 4 visited St Margaret's Church to take part in Christmas Unwrapped. They had great fun learning about the Nativity through lots of fun art and craft activities. Vicky the Vicar and her lovely helpers helped the children understand the importance of the Christmas story.
This week we have been working hard on subtraction using either the decomposition method or the expanded method with resources.
To launch our Harry Potter topic we made our own magical wands and explained what they were made of and why they were special.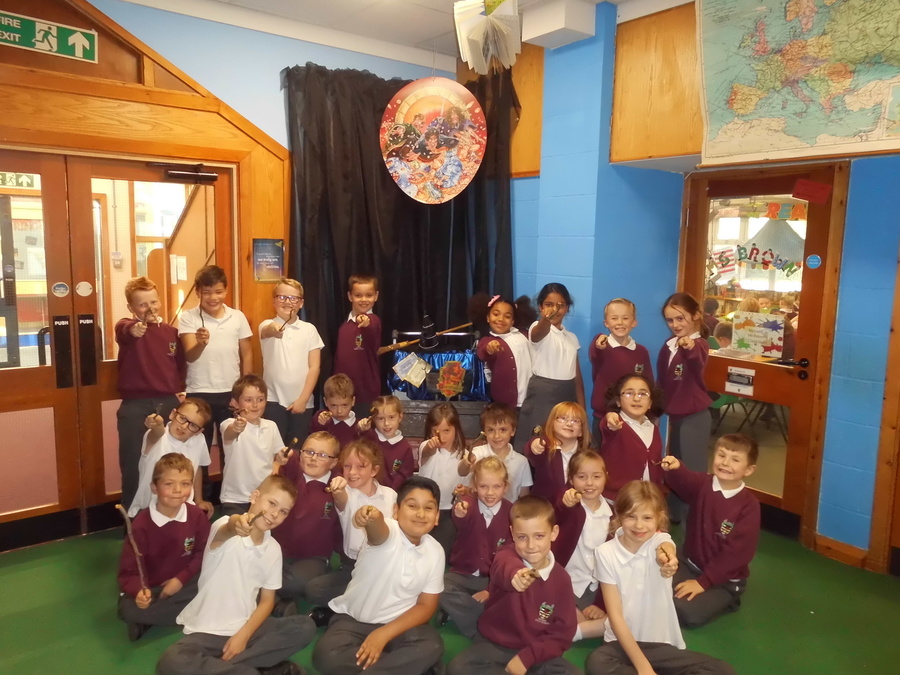 Zak had great fun creating a video in the style of David Attenborough. He made his own version of the Blue Planet TV series based on SHARKS!!! Year 4 children and staff really enjoyed his work and we look forward to our budding naturalist receiving his first BAFTA in years to come.
w/c 2/10/17
This week, for his Blue Abyss homework, Euan brought in a shark jaw and part of a pike jaw to show each class in Year 4! He was able to explain all that he knew about both types of fish – the children enjoyed being able to see the 'real' skeletal parts.