Year 3
Term 6 - w/c 18/6/18
In year three this week we have been using the grid method to work out multiplication calculations. This Wednesday we took our learning outside with some active maths. We had to run to collect incomplete grids and as a group we work out the missing numbers, solve the grids and wrote the answers. We had loads of fun.
In science this week we have been looking at the human skeleton. We drew around one of our classroom pupils and then worked as a group to label where the bones would be in relation to the body outline.
In English this week, we will be writing instructions. We have created a sunset background with a predator silhouette to go in front. We will then use this as our practical experience that we then write our instructions about later this week.
As we are looking at predators this term, we made masks of our favourite predator.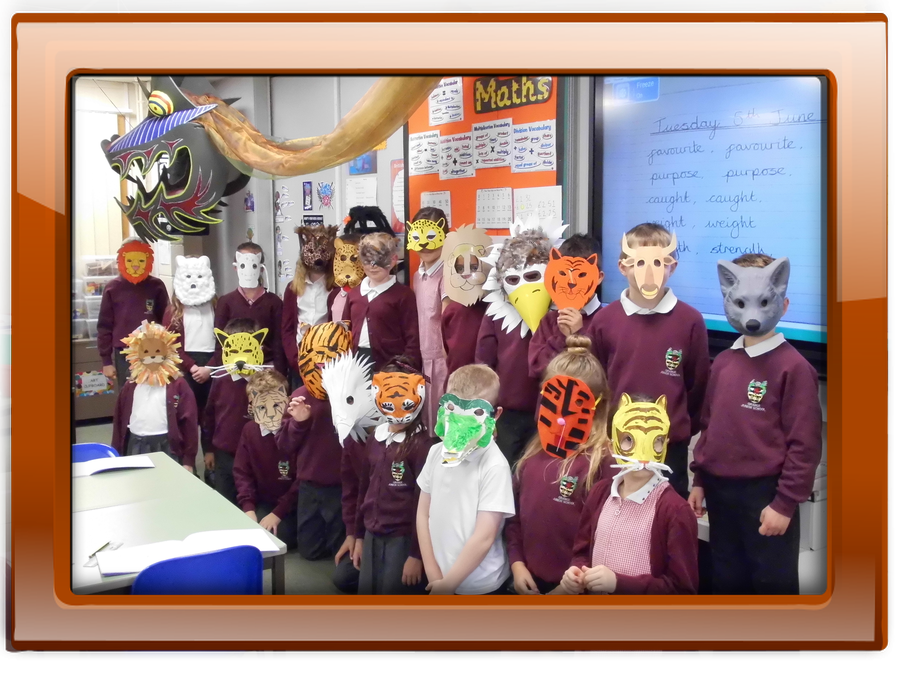 Term 5 - w/c 21/5/18
In Theme this week we have been exploring Stonehenge. To end the session this week, the children were tasked with making a mini Stonehenge out of clay.
Stonehenge data collection: In Theme we also made finding information active and fun. We had a race against time to find facts and then we worked together in groups to check our new knowledge.
Term 4 - w/c 12/3/18
This week we are exploring measurement. Today we have had to use careful reading of scales in ml to create a potion. If we were not careful our container overflowed.
In English today we have been looking at the importance of good language choices for description when describing characters. This is to help prepare us for character description in when writing the Iron Man.
Science - In science this week we have been looking at friction. We planned and completed an experiment of pushing a toy car with the same force on different surfaces to see the effect that the different types of friction had on the car.
The children in year 3 were very excited to take part in the Play in a Day activity. They used many practical skills and polished their acting ready for their performance to parents at the end of the day. Excellent work, well done year 3.
Year Three have been investigating light during our science lessons. We wore blackout goggles and our partner had to guide us over the equipment. We found out that we had to listen very carefully to instructions and feel our way across. This is because we cannot see when there is an absence of light.
Term 3 - w/c 23/1/18
Science Week
This week we have been looking at the Polar Exploration subject. We have explored insulation and the effectiveness of how blubber insulates the body of mammal in the Arctic.
Term 3 - w/c 8/1/18
In year three this week, we have looked at the myth of Icarus a Daedalus. In Design and Technology we have thought about use properties of materials and their suitability to create wings.
We were tasked with making wings for an empty bottle. The aim was to see which group had created the wings that made the bottle fly the furthest.
This Friday we had an interactive maths lesson where we played games to help us remember our 4 times table. We found this very fun and after the lesson we did our tables. We think that we were more confident after.
English
This week we have started English by looking at the features of newspapers. After that we looked more closely at the language used by a reporter and we practiced this with the use of some acting.
Term 2 - w/c 20/11/17
Science
This week we have been looking at rocks. We have prepared and organised for an experiment where we test the durability of igneous, sedimentary and metamorphic rock. We also looked at the properties of chalk.
We will use these results next week to conclude our findings.
Term 2 - w/c 6/11/17
This term in Computing we are looking at coding. We are using an online programme called Rapid Router and we have been progressively working through the levels. This week we have been looking at making smaller code by using a repeat action button.