Term 2 Week 2
Wowweee - what a fantastic week!
Everybody turned into artists and worked hard, persevered all week and created a beautiful piece of artwork. We used pastels, water colours and created stencils. If you would like to see the final pieces come to our Art Exhibition on the 29th November at 08:30-9 or 2:30-3:30!
Continuing with our Art week, we learned about the famous artist, Kandinsky. We mimicked his work, wrote lots of facts about him and reviewed his artwork. The children loved learning about somebody new!
In maths, we have been challenging our addition and subtraction knowledge by recognising our number bonds to 20 and looking at the inverses! We have been using the vocabulary "If I know... then I know" to recognise patterns in the number sentences.
Term 2 Week 1
Welcome back Deers, Woodpeckers and Otters! It has been an eventful first week back - everybody attended their first school disco! Thank you to the Mum's and Dad's for making all the children look fabulous in their costumes, the children looked so great we had a fancy dress parade on the playground!
As well as dressing up we have been doing lots of learning this week! In Maths, we practised our number bonds to 10 AND we learned the inverses too. We have been busy writing lots of number sentences with + and - !
Our topic question this term is "What goes Bang?" With fireworks night right around the corner we have started off the term describing and wondering about fireworks.
In Computing we have started to think about algorithms and coding, all the children followed an algorithm by their teachers and created a crazy character!
Another thank you to parents for all your positive feedback from the WOW mornings, we hope you enjoyed coming into class and seeing the children's fantastic learning!
The children in Deer class had a great time on fancy dress day!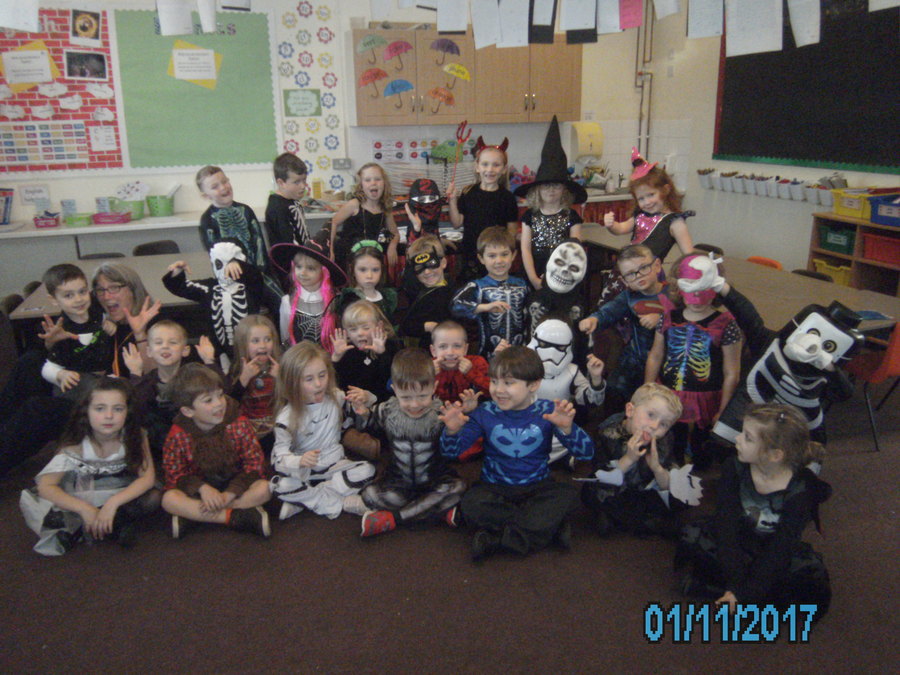 Term 1 Week 6
This week in Year 1 we have been innovating and evaluating! In English we planned a new story about our own jungle character who lost his smile (just like Augustus!). We drew and labelled our character, wrote descriptive sentences about them and made a story road featuring them. In Maths we have done lots of hands on activities involving 2D and 3D shapes. Which shapes can you find around your home? In the afternoons we evaluated our shoebox houses. We thought about what we had enjoyed doing and what we could do to improve it. What a busy week!
Before the half term holiday, we all enjoyed the Rock and Pop Music Roadshow! Musicians from the Swindon Music Service visited us and played music from each decade since the 50s. They also showed us their instruments and gadgets.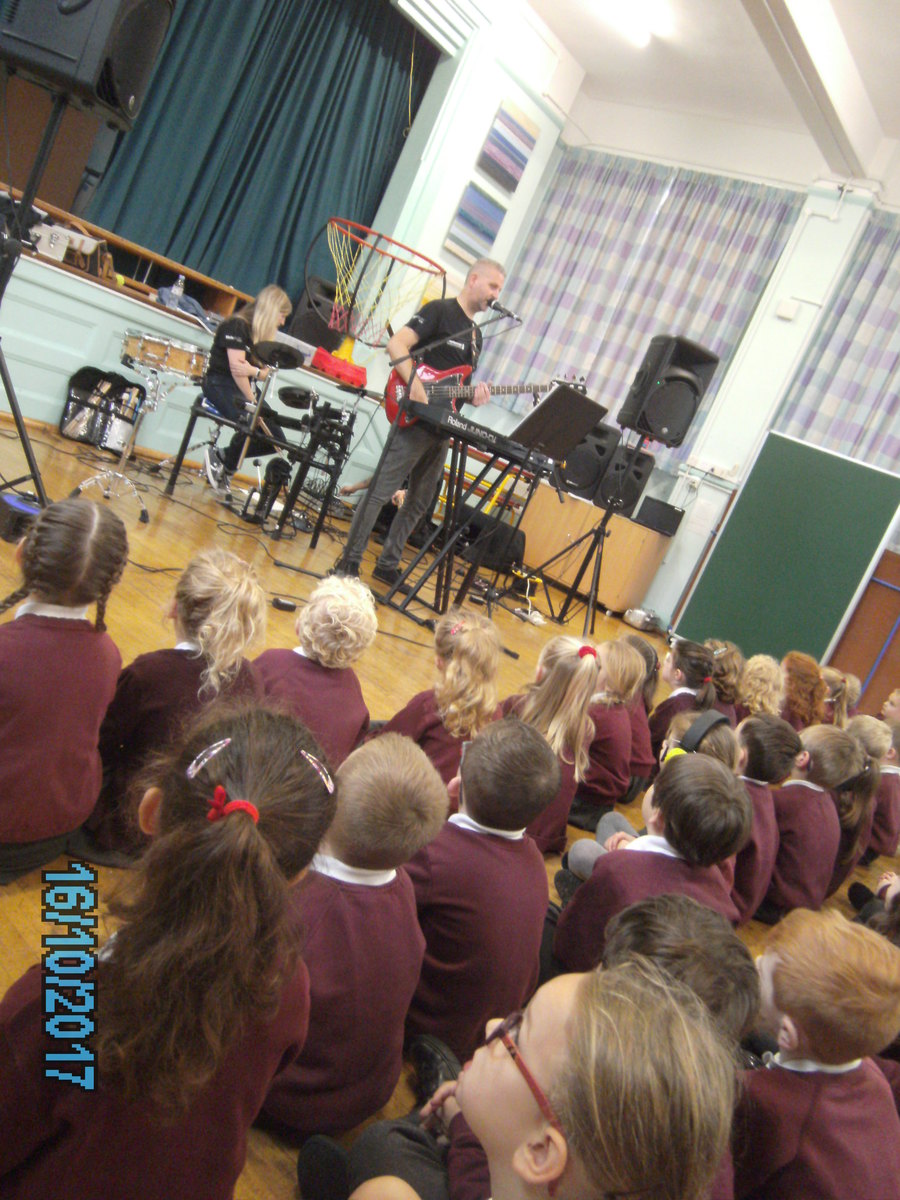 Term 1 Week 5
We've been working very hard in Year 1 this week, especially in Maths! We have been looking at 100 squares and using diennes to find tens and ones in two digit numbers.
In English we have been practising our handwriting, trying to make it beautiful! We have also been writing our stories about Augustus and his smile - they are fantastic!!
The children have really enjoyed their dance lessons with Miss Genna this term, learning new dances to different songs every week. The theme has been Disney which has been a lot of fun!
In RE this week the children learnt about a new faith community - Judaism! We celebrated our own class Shabbat meal, sharing wine (blackcurrant juice) and bread with our friends. They children agreed celebrating this made them feel good about themselves.
We are loving the junk models of animals which are coming in as part of the homework - they are fabulous!
Year 1 children learning about Shabbat in RE and enjoying a Shabbat meal of 'wine' and bread.
In History and Geography we have been learning about different houses in this area. We looked at houses near school then designed our own house. We worked in pairs to build our houses and they are now on display in our Construction Area.
Term 1 Week 1
Year 1 have settled into their new classrooms really well this week.
In Maths the children have been sorting lots of different objects. They worked hard in a team to create a pictogram to show their sorting!
In English we have been retelling our experiences from our summer holidays and writing about our favourite parts!
In the afternoons, the children have been introduced to lots of new subjects such as Dance, Music, PSHE and History which we are super excited to build upon!
There will be a Parents Meeting at Grange Infants School on September 19th at 6:00pm to tell you more about teaching and learning in Year One!